Remote Production at MediaEvent Services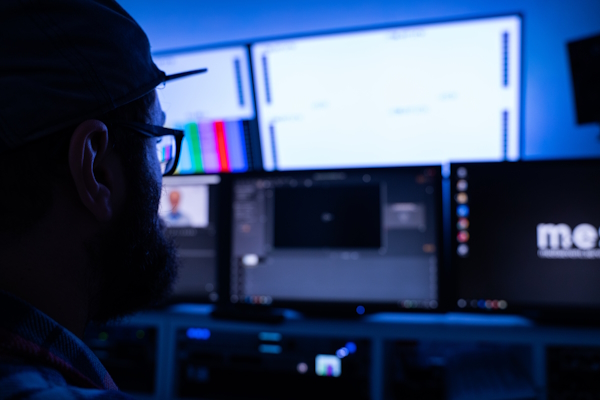 The production of digital events in a failure-free and professional format is a major challenge for companies and hosts, especially if they need to be implemented cost-effectively. Remote production has therefore been gaining acceptance as an effective solution for several years. MediaEvent Services is specialized in this field and offers services that far surpass conventional event management in the area of remote streaming.
What is remote production?
Remote production refers to a production concept in which only a small part of the technology and staff is required on-site. Instead of the full technical crew and equipment at the venue, a small team sends the image and sound signals to a remote control center. The main production team, consisting of technicians, editors, and production managers, processes the raw material provided at that location.
We support the planning and realization of your corporate event .
Advantages of remote production
Remote streaming and production offer numerous advantages:
Location and personnel: By transmitting the signals through a small team on site, logistical challenges are minimized.
Cost efficiency: Significant costs can be saved through reduced personnel and travel expenses.
Flexibility: MediaEvent Services takes your special demands into account both before and during the live event.
Fast troubleshooting: Our team is available live from the stream testing phase to the end of the event, monitoring the event and providing immediate support in the event of challenges.
Our technology: The Webcast Operation Center
At the heart of our remote streaming production is the Webcast Operation Centre (WOC). Thanks to its satellite connection, it can receive signals worldwide – even from places without internet access – and send multiple streams simultaneously. For multilingual events, we also offer the option of remote interpreting. MediaEvent Services receives audio signals from interpreter hubs worldwide – whether via satellite, SRT or RTMP – and integrates them seamlessly into your live picture, for example on our livestreaming platform SlideSync.
Our service: Flexible and scalable
The flexibility and scalability of our remote production service mean we are ready for events of any size – whether for thousands of attendees worldwide or internal communication within your company. Would you like to continue using your existing conferencing solutions and collaboration tools? No problem: We integrate your infrastructure seamlessly and quickly into our remote production. Discover the modern, efficient, and cost-effective service of MediaEvent Services and optimize your event experience.
Get advice today
MediaEvent Services offers you quality in livestream production. Take advantage of our expertise for professional digital events. Discover the possibilities of remote production and contact us for customized advice. We look forward to supporting you!
Let's talk about your event!