RTMP Streaming – Broadcast Webcast Events live securely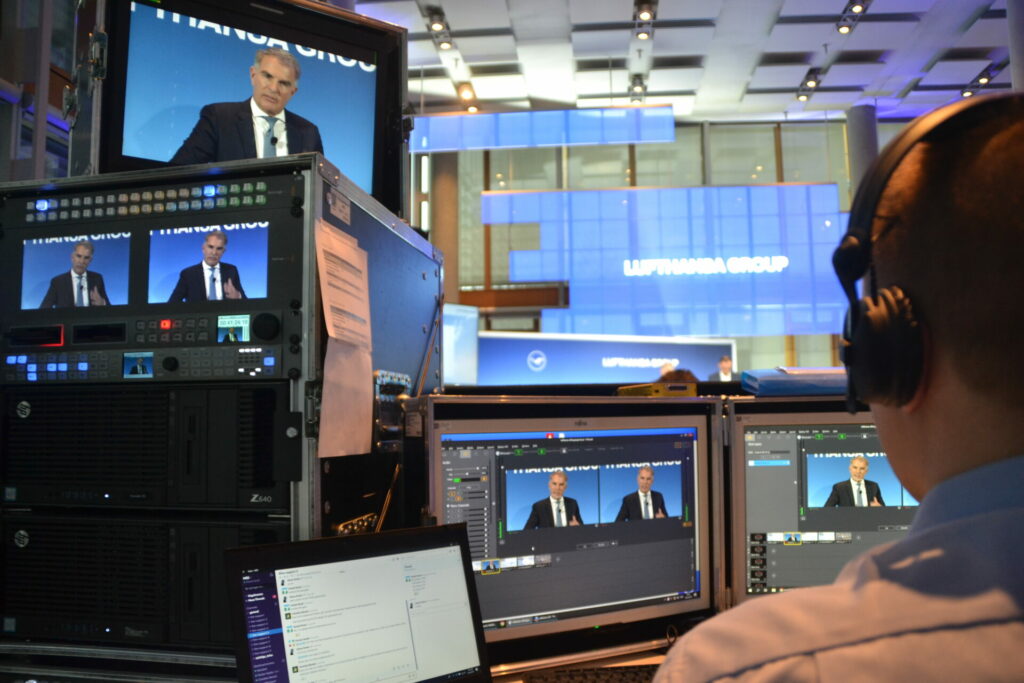 These days, visitors do not necessarily have to be on-site to experience a live event. Thanks to modern technology and advancing digitalization, events of all kinds can be streamed live. In many cases, RTMP streaming is used to transmit the event to the audience.
What is RTMP Streaming?
RTMP streaming is a technology that allows live streaming of content to viewers who cannot be on-site. The Real-Time Messaging Protocol, short RTMP, is an early standard that enables streaming various webcast contents. Thanks to its widespread use, RTMP streaming is supported by most encoders required to convert the videos to be streamed. The vast majority of media servers, the software used to broadcast the video, also support RTMP streaming.
How does RTMP streaming work?
RTMP technology allows secure and fast video streaming of all types of content to viewers in front of their own devices. This means that your events attendees do not necessarily have to be on-site to participate live. This allows you to target a much larger audience and provide the content regardless of location. This is how RTMP streaming works:
A camera records the content to be streamed.
The recorded video is converted to the appropriate streaming format using special software and forwarded to the RTMP server in real-time.
The video stream is displayed on the viewers' devices out of the RTMP server.
RTMP is a transmission protocol specified by Adobe for video and audio streams. It is based on TCP (Transmission Control Protocol) and transmits the message to be sent, hence the video or audio file to be streamed, as a sequence of equal-sized packages. These individual packages are reassembled by the receiving software to provide the complete file for playing.
Differences in RTMP streaming
RTMP streaming can be used in three different ways, depending on the environmental conditions. These are:
1. RTMP based directly on TCP/IP port 1935
2. HTTP-based RTMPT for overcoming firewalls ( no longer practically relevant today)
3. RTMPS based on TLS for confidential transmissions.
We support the planning and realization of your corporate event .
Strengths and weaknesses of RTMP streaming
RTMP streaming is one of the early standards in the streaming world. Although it comes with a few limitations, such as a 15-second transmission delay or incompatibility with some modern browsers and end devices, the technology is convincing in other aspects. Particularly mentionable advantages are:
Streaming with RTMP technology is seamless across many different software and hardware components.
The streaming protocol is supported by most encoders.
Secure connections are possible with RTMPS or Secure RTMP.
An alternative for RTMP streaming is HTTP Live Streaming (HLS) streaming protocol. However, RTMP streaming is still relevant, in particular on the production side, where it is used in a large number of professional livestreamings.
RTMP streaming by MediaEvent Services
With SlideSync, MediaEvent Services offers a flexible and advanced webcast platform for enterprises. Still have questions about your next webcast event? Unsure which software to use? Don't hesitate and contact us! We are happy to help you!
Let's talk about your event!