Hybrid Events
on-site or online? Both!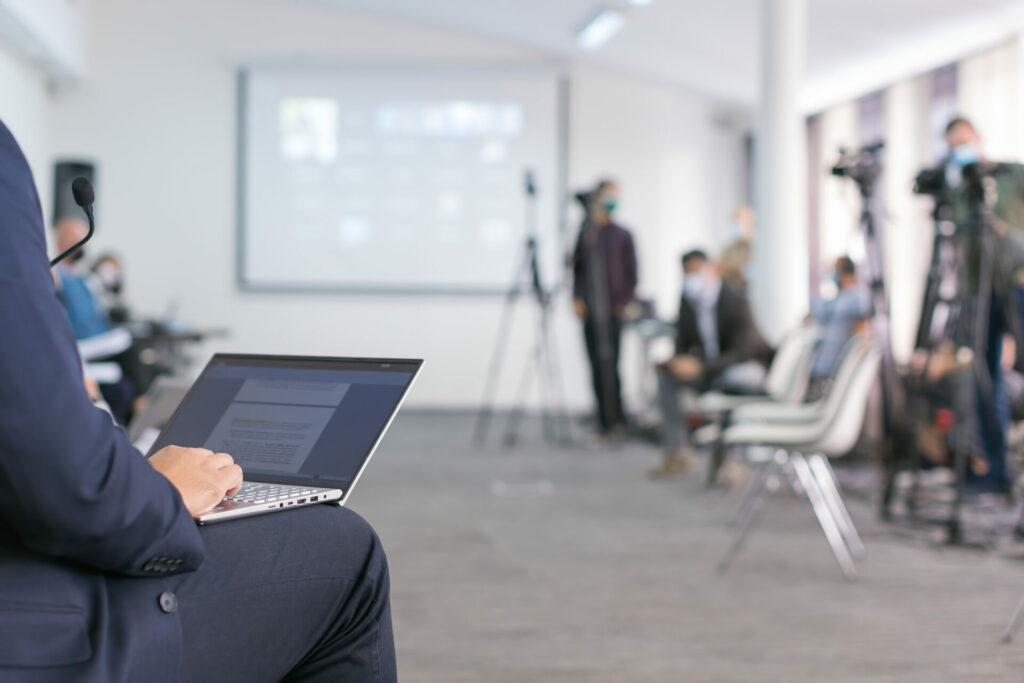 Event managers are facing new challenges: After a majority of events have been converted to virtual-only formats, requests for on-site events are on the rise again.
Considering the still unpredictable infectious situation and significantly more flexible working models, on-site events need to offer remote attendees equal opportunities – hybrid events make this possible.
MediaEvent Services offers many years of experience in the planning and implementation of hybrid events. Management calls, hybrid conferences, or Annual General Meetings, we support a wide range of formats for leading companies and provide vendor-independent consulting services to help you successfully implement hybrid events.
We support the planning and implementation of your hybrid event.
SlideSync platform
With SlideSync's webcast platform, you can engage participants on-site and online equally.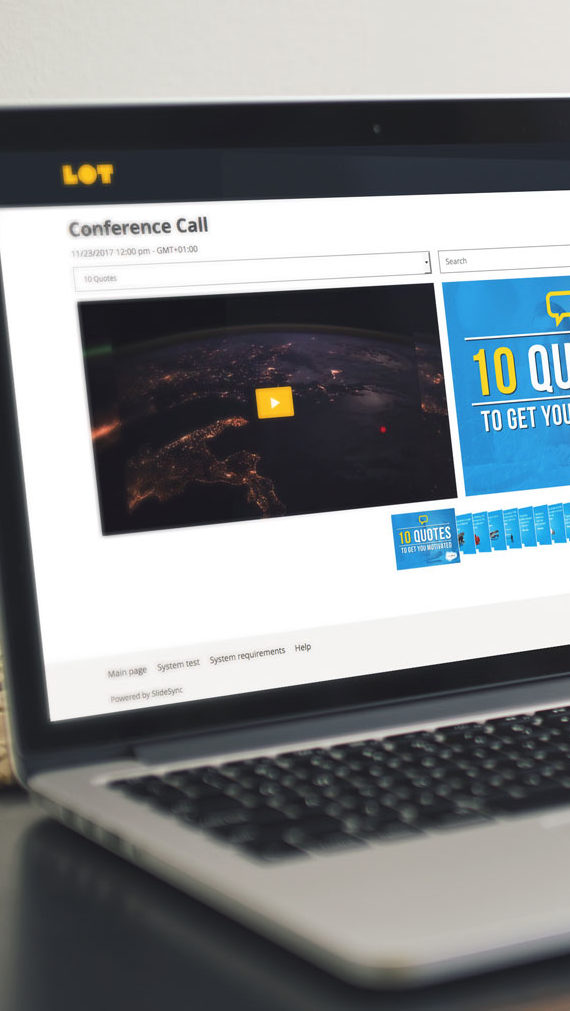 Hosted question and answer sessions (Q & A)
Engage in a structured dialogue with your audience!
Public questions with voting
Quickly identify the topics that matter most to your audience.
Surveys
Compile feedback and make sure your information has been comprehended
Participant registration
Evaluate success and enable self-registration
High quality at low network load
SlideSync can stream high-definition video content of your hybrid event to thousands of employees and stakeholders without burdening your corporate networks:
Enterprise Content Delivery
Distribute content within the corporate network and reduce the load of the central internet access
Split Tunneling
Connect home office users outside the VPN and reduce the load on your VPN/RAS infrastructure.
Opportunities and limitations of hybrid events
Hybrid events have sustainably changed the event culture. Hybrid events deliver new experiences for the participants as well as numerous opportunities but also limitations for the organizer of an event.
Seize new opportunities with hybrid events
Hybrid events entail some new opportunities and perspectives. These include, in particular,:
Interactive involvement of the audience
In contrast to on-site-only events, you can use interactive online tools within your hybrid event. These include, for example, surveys or a chat function for interaction between participants. Using modern technologies such as augmented or virtual reality, you can also give your on-site attendees the opportunity to experience additional content. By interactively engaging participants in your event, you can create a significantly improved experience and increase their connection to your event or your company.
Higher outreach thanks to location-independent attendance
Digital access to events allows participants to attend regardless of location or time. Hybrid events also enable visitors who cannot be on-site for scheduling, personal or financial reasons to participate in your event. In addition, all participants can watch the recordings of the event subsequently.
Reporting and analysis
Thanks to professional digital attendee management, hybrid events enable the tracking and analytics of all participant data, compliant with the German Data Protection Act (DSGVO). You can evaluate the number of attendees, which content is used most often, and what the audience is most interested in. The tracked data can form a solid basis for the development of new events in order to design them even better in terms of content and possibly even personalize them for individual audience groups.
High quality participant experience
Hybrid events offer the opportunity to provide participants with an even better experience of the event. Not only are hybrid events generally considered by attendees to be modern and innovative, they also offer the opportunity for branding and are in line with the event organizer's corporate design. This increases the chance of future events attracting higher numbers of attendees and allowing your company to build a long-term relationship with them.
Sustainability contribution
Sustainability is becoming an increasingly important factor in the organization of events. Hybrid events play their part, as fewer participants have to travel to the venue. Not only does this save a considerable amount of CO₂ emissions for travel, it can also reduce the amount of waste generated on-site significantly. Hybrid events therefore decisive increase efficiency – especially in the area of sustainability.
Possible limitations of hybrid events
Along with the multiple advantages and benefits hybrid events can offer, potential limitations and risks should also be considered carefully in advance. These may include, for instance:
Increased staff costs and expenditures
Should an event also be recorded and streamed live, appropriately qualified staff will be needed. The support of attendees participating online should also not be neglected. At the same time, more extensive technical equipment and a professional webcast provider are required for hybrid events. This can result in additional effort, which is usually redeemed quickly. We offer qualified staff as well as the required technology at reasonable prices.
Complex processes require appropriate training
Hybrid events involve significantly more complex processes than on-site-only events. All content and information must be adapted accordingly so both groups can perceive it in the best possible way. In order to be able to handle these complex processes, you also need to ensure your in-house employees receive the appropriate training in advance. We offer the necessary professional training and expertise for a successful realization.
Less live participants
Hybrid events also offer numerous advantages for participants. For instance, time savings due to omitted travel may cause many attendees to not participate in the event on-site. You should consider these aspects when planning hybrid events and determine the distribution of attendees in the individual participant groups at an early stage. With our efficient invitation and registration management, you will succeed in organizing this with ease.
Sounds interesting?
Contact us right away to discuss your hybrid event, or check out our SlideSync platform firsthand!
Let's talk about your event!