Live transcription
Increase the accessibility of your online event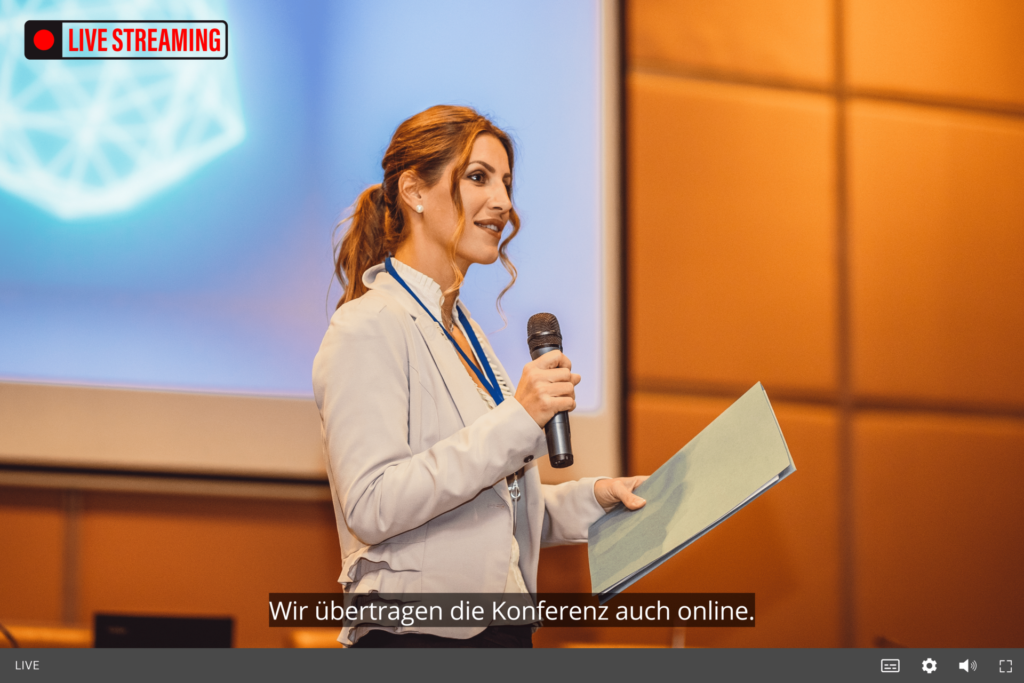 In an increasingly collaborative world, webcasts and webinars are essential for sharing knowledge and information. When people from different countries and cultures come together, barrier-free communication options are more important than ever. This is where live transcription comes into play. SlideSync offers high-quality real-time transcription that adds real value to your online event. In this post, you'll learn everything you need about our live transcription feature and why it's essential for your event.
What are live subtitles
and what is their significance?
Live transcriptions are real-time captions of spoken words that are displayed on the screen. They enable viewers to better understand spoken language by providing the spoken text in a readable form. They are particularly important for people with hearing disabilities who rely on visual support to understand the content. In addition, viewers with different language skills or in environments where it is difficult to hear the audio clearly also benefit from transcriptions. They enable them to follow the content better and understand it more easily.
Live transcriptions feature on SlideSync
SlideSync uses advanced technologies such as automatic speech recognition (ASR) and machine learning to create accurate, high-quality transcriptions for webcasts in real time. The process includes:
Audio recognition: SlideSync captures the spoken word during the webcast and converts it to text.
Synchronization: The software synchronizes the text with the audio and video transmission and ensures that the subtitles appear at the same time as the spoken word.
Subsequent editing: You have the choice to edit and enhance the generated transcript after the webinar or webcast before publishing them for SEO purposes.
Live transcripts – advantages and benefits
Using live transcripts with SlideSync offers numerous benefits, including:
Accessibility: Live transcripts enable people with limited hearing or different language skills to participate in your event and better understand the content.
Expanded reach: Integrate live transcripts to reach a broader, international audience.
Improved intelligibility: Live transcripts ensure that your content can be understood even in noisy or acoustically unfavorable environments.
Inclusion: By using captioning, you show that your event is open to all and that you care about the needs of your participants.
We support the planning and realization of your corporate event .
Integration of live transcripts with SlideSync
Easy integration
Adding live captions to your SlideSync event is simple and straightforward. Our support team is always available to help you with setup and integration. Weitere Informationen erhalten Sie auch in unserem Support-Portal.
Increase the reach and accessibility of your webcasts with live transcripts by SlideSync
Live transcripts in webcasts are an important step towards barrier-free communication and improving access to information for all participants. SlideSync offers a powerful and easy-to-use solution for integrating live transcripts into your webcasts and webinars, so you can expand your audience and create a more inclusive online experience. Don't wait any longer – contact us today to take your online event to the next level with SlideSync.
Let's talk about your event!