Online Press Conference: professional & secure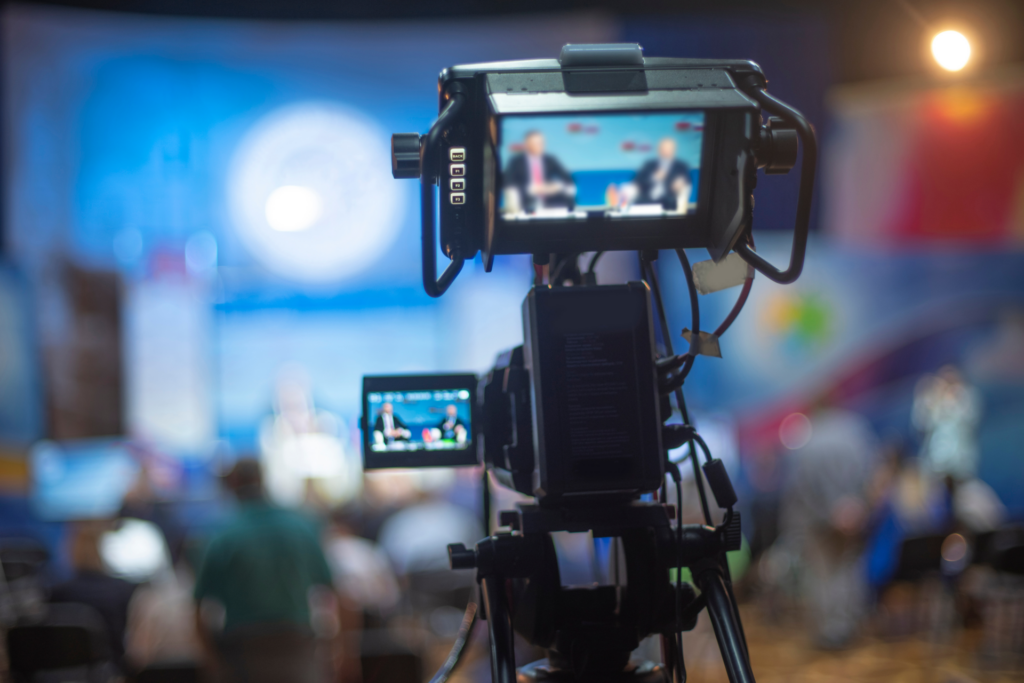 Press conferences are an important way for companies and organizations to make announcements to the public. Especially for online press conferences, which often attract even more attention from the media, customers, and stakeholders, using the right technology is crucial. SlideSync offers you the perfect platform to run your online press conference professionally and smoothly.
Support for the broadcast of your press conference
With innovative technologies and comprehensive services, MediaEvent Services offers clients the opportunity to hold professional virtual press conferences and reach their target audience in an effective way.
MediaEvent Services offers a wide range of services to help companies plan and execute online press conferences. As an experienced live streaming provider, we determine your needs together and support you with our expertise at any time.
Live streaming production on-site & remotely
Modern 4K cameras, broadcast equipment, audio technology & lighting
IT equipment, mobile internet, satellite transmission technology
Advice on choosing the right virtual event platform
With SlideSync we use a powerful and reliable webcast platform to conduct your online press conference successfully and professionally. Whether you are launching a new product, discussing strategic decisions, financial statements, or other announcements, SlideSync and the team of MediaEvent Services can provide the perfect solution.
We support the planning and realization of your corporate event .
Advantages of an online press conference with SlideSync
SlideSync is perfectly suited as software for conducting an online press conference for several reasons. The user-friendly platform provides an easy way to quickly and effectively share a presentation and discuss it with participants in real time. Furthermore, SlideSync offers other advantages:
Interaction with the audience
Equipped with a powerful Q&A tool, SlideSync makes it easy to interact with your viewers. Have participants submit written questions to be answered live. In the back end of the tool, you can sort and optionally edit questions in real time via a user-friendly interface for the speaker. The Q&A tool also allows you to collect questions before the actual event so they can be included in the Q&A session. This will help you organize the event efficiently and ensure that the most important questions are answered.
Easy access
Accessing your online press conference on SlideSync is as easy as can be. Interested parties will receive a link to follow the event live. SlideSync works on all browser-enabled devices without additional installation. Likewise, you can integrate the broadcast of the conference into your company website as desired. Associated press releases can be made available to participants directly as a downloadable document.
Security for your online press conference
Especially in today's world, data security is becoming increasingly important for companies and organizations. SlideSync provides a secure platform for the exchange of data and information. To accredit your participants, you can set up a registration to record who wants to follow your event. Restricted access or the direct invitation of press representatives with personalised participation links can conveniently be set up via the back end.
Analytics & Follow-up
SlideSync provides detailed analysis and reports on attendee data and their behavior during the press conference. Gain key insights, such as which content resonated the most, or which questions were asked most often. You can use this information profitably for future press conferences and other marketing activities.
Thanks to its numerous features, SlideSync offers an excellent solution for conducting online press conferences and is a great choice for companies and organizations of all sizes.
Together MediaEvent Services and SlideSync provide a secure and professional solution for conducting your online press conferences by enabling the delivery of information in an effective and user-friendly manner. This way, you can be sure that your information will be disseminated to the public quickly and effectively, without any technical problems or ambiguities.
Are you interested in holding your press conference virtually with MediaEvent Services? Contact us and we'll talk about your event!
Let's talk about your event!