Webinars
MediaEvent Services & SlideSync:
The future of online education and communication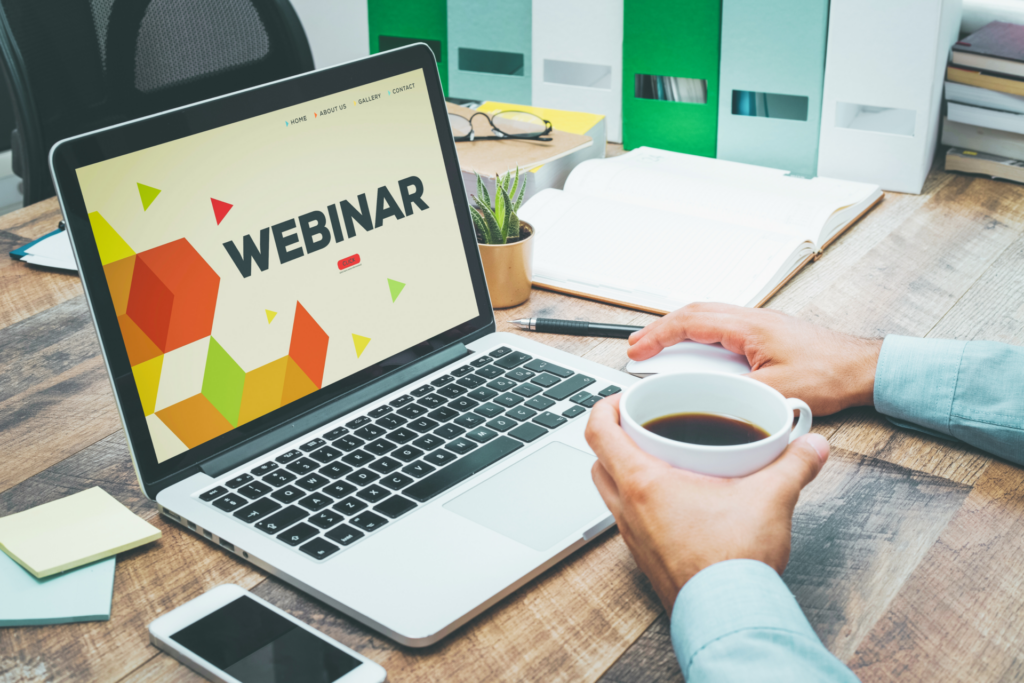 In today's digitized world, webinars are becoming increasingly important, both in education and in corporate communications. They offer an efficient and cost-effective way of conveying knowledge and holding discussions over long distances. MediaEvent Services supports you as an experienced webcast provider with long expertise in the technical planning and execution of your webinar. With the SlideSync webcast platform, we provide a user-friendly and interactive solution for your event.
What is a webinar?
A webinar is an interactive online seminar that takes place over the Internet and allows participants to attend from anywhere in the world. This type of event uses video, audio, and chat technologies to provide participants with an immersive and interactive learning experience. Webinars can be used for various purposes, such as training, product presentations, conferences, and discussions.
MediaEvent Services & SlideSync:
Your partners for successful webinars
MediaEvent Services is a leading webcast provider and provides comprehensive support for companies and organizations in the planning, execution, and follow-up of webinars. Here are some of the key services MediaEvent Services offers:
Planning and conception of webinars
MediaEvent Services helps you plan and design your webinar by analyzing your goals and requirements and developing a customized strategy. This includes selecting the appropriate webinar platform, determining the technical scope, and advising on the development of the event schedule.
Technical support
The experts at MediaEvent Services will ensure that your event is technically flawless. This includes setting up the necessary technology, running tests, providing technical support during the webinar, and troubleshooting any problems.
Asset development and post production
MediaEvent Services can help you create engaging and informative content for your webinar. This includes the creation of presentations, videos, and other interactive elements that encourage participant interest and engagement. Likewise, MediaEvent Services post-edits your videos in post-production so that you can embed them in your social media channels, for example.
Mobile Studio & Livestreaming Location
MediaEvent Services is perfectly equipped to host a webinar in your company. Experts check the conditions on site in advance and advise on the selection of a suitable location for streaming. For the professional broadcast of an event at your company's location, MediaEvent Services provides you with all the equipment you need and takes care of set-up, preparation, and execution. MediaEvent Services also has a large network of partners in Germany, Austria, and Switzerland to offer professionally equipped studio space in your area to manage your event on site or remotely.
We support the planning and realization of your corporate event .
SlideSync: A powerful webinar platform
In addition to an established technical provider, the choice of the right virtual platform is crucial for the success of your webinar. MediaEvent Services understands the importance of a reliable and efficient webinar platform, which is why they rely on SlideSync. SlideSync is an advanced platform specifically designed to meet the needs of businesses and organizations. The collaboration between MediaEvent Services and SlideSync brings a variety of benefits:
Simple setup and operation
SlideSync provides an intuitive user interface that allows you to create and manage webinars quickly and easily without any prior technical knowledge. Participants of your event will also benefit from an intuitive interface that allows them to navigate effortlessly. This increases usability and encourages active participation.
Scalability
SlideSync is a scalable platform suitable for both small and large events with thousands of participants. This allows MediaEvent Services to host webinars for companies of any size and ensure they run smoothly.
Interactive functions
The platform offers numerous interactive features such as live chat, polls, and Q&As that allow participants to actively engage in the webinar. This promotes engagement and enhances the learning experience.
Adaptability
SlideSync allows MediaEvent Services to customize the webinar platform to meet the specific needs and look and feel of your organization. This helps maintain a consistent brand presence and adds a professional touch to your webinars.
Analysis and reporting
The platform offers comprehensive analysis and reporting tools that help MediaEvent Services measure the success of your event and identify areas for improvement. This data is critical to further optimize your online formats and make future webinars more successful.
Successful webinars with
MediaEvent Services & SlideSync
Webinars on SlideSync offer a great way to reach your target audience by providing interactive and engaging online presentations. The user-friendly platform and multiple features make it easy to create and execute successful events. Together with the thoughtful technical planning and support of MediaEvent Services, you can use the full potential of your webinars to impart knowledge and build business relationships in a sustainable way.
With the combination of MediaEvent Services' expertise and SlideSync's powerful features, you can be sure that your webinars will be a complete success. Experience the benefits of MediaEvent Services and SlideSync for yourself. Contact us today!
Let's talk about your event!