Career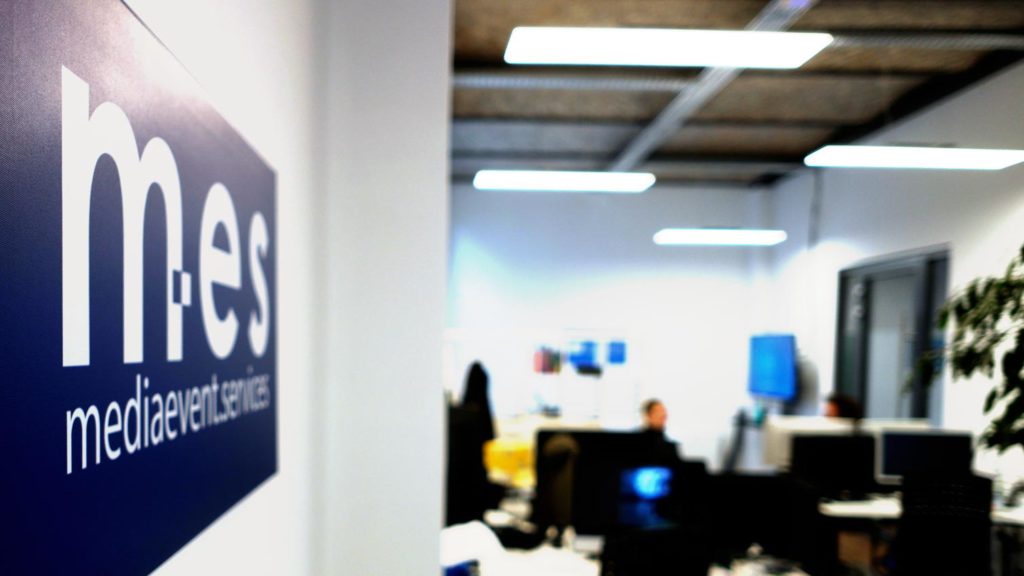 International Team

Permanent positions

Performance-based salary

Flexible working hours
Professional Services teams take care of many events for well-known customers with individual requirements. Meanwhile, development teams are working on the continuous upgrade of the webcast platform SlideSync.
With MES, you take early responsibilities, and the team will support you through a continuous exchange of experience and knowledge.
You contribute creative solutions and new ideas in all areas of the company. We are convinced that an open corporate culture contributes significantly to our pleasant working atmosphere and the success of our customer.
Current vacancies
Your responsibilities:
Together with other developers, you will design and build new features and help maintain SlideSync, our flagship live streaming platform.
SlideSync's backend runs on Ruby on Rails, with MySQL and Redis data stores, in a Linux / Mac environment.
The frontend is powered by both ES5 and ES6, leveraging jQuery, Bootstrap and React. On top of that, we use custom and off-the-shelf video streaming infrastructure. We rely on Git for version control and our automated test suite runs under RSpec and Jest. We host on AWS OpsWorks with nginx/Passenger.
Your profile:
You have solid experience in core frontend web technologies (HTML, CSS, JavaScript), and the tools and libraries that extend them.
You have basic knowledge of backend development, including experience with MVC frameworks and command-line operations.
You are a team player who can work independently. You can identify, communicate and solve problems in a team. Involvement in open source and side projects is greatly valued.
You write clean code with strong consideration for community best practices and maintainability.
You have knowledge of automated testing, TDD, BDD.
Good written and verbal communication skills for both internal and client concerns. German skills are a plus.
Experience with DevOps / AWS is a plus point
This position is full-time on location in our Berlin office. Temporary contract and freelance work are not options at this time.
Please send your application documents including your expected salary as PDF files to jobs@mediaevent.services
MediaEvent Services (MES) is looking for a Livestream / Webcast Operator – Media Technology (m/f/d) in Wetzlar to support our team as soon as possible.
WHAT DO WE DO?
---
MES develops and operates the cloud-based webcast platform SlideSync which can be booked for one-off events or used by customers themselves on a subscription basis. Our customers are well-known, often internationally operating companies (e.g. Lufthansa Group, Deutsche Bahn, Deutsche Bundesbank, Thyssenkrupp) and value added resellers (NTT Cloud Communications) in Germany, Switzerland or France.
From our location in Wetzlar, Germany, our Professional Services team performs webcast productions primarily nationwide, either by themselves or with partners. For this team, we are looking for support.
WHAT WILL YOU DO WITH AND FOR US?
---
You will support your team in the execution of live webcasts nationwide and in our Webcast Operations Center in Wetzlar. You prepare systems for a smooth and professional production and are a competent contact person for our customers and the production teams in technical questions.
Your core task is to receive audio and video feeds and send them to our webcast platform (or other platforms). You should also be able to prepare and execute compact events yourself after a short training period. In detail this includes:
Planning and supervision of smaller webcast events
Planning and setup of transmission networks or access points (LAN/WAN)
Configuration and operation of video encoding systems
Setup of events on our webcast platform SlideSync and other platforms (e.g. Microsoft Teams)
Depending on your skills, the following tasks may also be part of your job description:
Support in the planning and preparation of complex event productions, subsequently also on your own responsibility
Planning, setup and operation of relevant broadcast and AV technology (lighting, sound, image/camera technology)
video editing
WHAT DO YOU HAVE TO PROVIDE?
---
A completed apprenticeship and professional experience in a media-technical profession (preferably in the event, broadcast or media sector) or a comparable degree would be a good basis, but also career changers who have the necessary know-how are welcome.
This is a minimum requirement for your new job:
Knowledge of relevant video formats, transmission protocols and tools. Do terms like RTMP, SRT, H.264, delay, buffer or frame rate sound familiar? Then go to the next point
Basic knowledge of IT networking (LAN/WAN). You know what an IP address is, you know routing and you know where things can go wrong with network transmissions? Then go to the next point
Good knowledge of Windows 10 and Microsoft 365 apps (Teams, Outlook, Excel, Word, PowerPoint). We are working in #newland and have now implemented a Modern Workplace concept based on Microsoft 365. It would be helpful if you can do more with these apps than open and start typing. But it's not a showstopper, because it can be learned.
Good German language skills, both written and spoken. For a serious communication with our customers and your colleagues it would be really great if you have a good command of the German language on B2 level.
A car driver's license and at least 2 years of driving experience so that you can move your equipment in a proper way.
Communication should be one of your strengths to exchange with customers and the team
Flexibility, because fast changing conditions or requirements are the rule rather than the exception.
Willingness to service! When the customer calls, we are there to put out all fires. Even if there is no flame).
If you work independently, goal-oriented and structured – individually as well as in a team, you fit well with us.
WHAT WOULD BE GOOD?
---
English language skills (some of our customers and your future colleagues speak English)
WHAT DO YOU GET IN RETURN?
---
Of course a reasonable salary with a performance-related bonus
a clear long-term strategy
an open and transparent corporate culture
active opportunities to shape the company
influence on structure and process design in a growing company
responsibility for interesting projects
an open and professional working environment
experienced colleagues and team players
digital life (end-to-end), digital organization
coffee & water 😉
flexible working hours and conditions but usually your team works weekdays from 9:00 to 18:00. Weekend work and late shifts are rare.
Home office is established with us and always possible after consultation in the team, the IT equipment for this will be provided to you.
We are an established company with a process-oriented way of working but the creative spirit of a start-up and constant change.
You are a curious person and enjoy success? You dare to question processes and ways of working and also implement this? You can imagine what Customer First means to you? Then you've come to the right place!
If you don't have everything: Apply anyway! Everything can be learned if you have the necessary ambition.
By the way: m/f/d is not an obligatory addition for us. We are happy about everyone who enriches our team.
If you have read this far and are interested, please send us your written application (CV, your qualifications and a detailed description of your previous work), your salary expectations and your possible starting date by e-mail to jobs@mediaevent.services
Contact
Sören Krohn
MediaEvent Services GmbH & Co. KG
Charlotte-Bamberg-Str. 6
35578 Wetzlar
Phone +49 6441 87087-60
E-mail: jobs@mediaevent.services
Web https://mediaevent.services
Note: We do not work with recruiting agencies – no exceptions.
The fitting job opportunity for you is not listed above, but you would like us to get to know you?